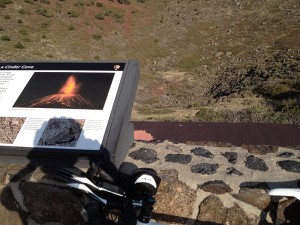 Distance: 200km
Climbing: 7777ft
Availability: Year-round
States: NM, CO
Photos from Sept and Nov, 2013
Route Description
A beautiful ride, much of which follows the New Mexico Brevet Series Capulin Volcano Classic 300k, RUSA #977, which is usually held the 3rd Saturday of September. The view from the Volcano is often spectacular. The Volcano crater is unique and definitely worth a visit. There is a 5-foot law in NM. Don't expect rural drivers to be aware of the law. However, rural New Mexico drivers are generally very courteous.
No Services
This is a very rural route. Riders should plan to be self-sufficient, and carry ALL water, food and gear they may need for the entire distance. There is a water pump outside the Museum at the intersection of NM325 and NM-456 in Folsom (http://www.folsomvillage.com/) and at the checkpoint in Branson, CO (sometimes out-of-service). You may be able to get soda or water at vending machines at the Capulin Volcano National Monument Visitor Center. There is a store in the town of Capulin (at the intersection of NM-325 and US-64/87), but it closes fairly early.
The only public toilets are USFS porta-potties near Sugarite (open seasonally), the Volcano Visitor Center (if you arrive before it closes), and Capulin (if store is open).
Road Access, Conditions, Traffic
You will not be able to ride the Volcano section until after the gate closes at 4:30PM so plan your start time accordingly. (See the Capulin Volcano website for more info.)
Pavement is mostly normal for rural NM, but NM-325 between Folsom and Capulin is in very bad condition with lots of broken pavement.
Watch for debris on shoulder of US-64/87.
Most of the route has very low traffic, however around holidays, and school breaks US64/87 carries a large volume of traffic between Texas and Colorado.
Lights and Reflective Gear
Because of the requirement of scheduling around the Volcano visitor hours, most of the year riders will need lights and reflective gear to complete this ride.