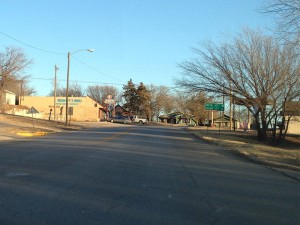 Distance: 209km
Availability: Year-round
States: OK
Route Description
This is a rolling route that starts and finishes near Boomer Lake in Stillwater, OK. A 209km slice of Americana, the route goes through several small towns northeast of Stillwater. Some still have brick paved side streets. You'll cross the Arkansas River on an interesting (and poorly paved) old bridge. With a town every 20-30 miles, services aren't scarce. There are several opportunities for BBQ, hamburgers and fried chicken if that's you're thing. If not, you'll find the usual convenience store fare.
The route is reversible, so you can choose whether to ride the loop from Pawnee in a clockwise or counter-clockwise direction.
Road Conditions, Traffic
Rural drivers in Oklahoma tend to give cyclists a lot of room, but make sure you're extra-visible, as cyclists aren't a common sight in rural Oklahoma. Road surface varies from exceptional to extremely bad.
RUSA Listing: Route # 2145
Routes on RideWithGPS
Clockwise
Counter-Clockwise
Cue Sheets
Clockwise
Counter-Clockwise