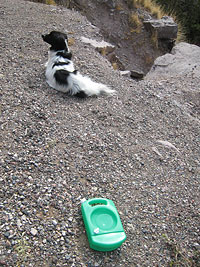 So I think I was in the boot for 9 or 10 weeks. Then in it part time for two more. Then a week with no boot. Then this unusual event called the "Sooo Not Normal" relay occurred and I had to take 20 minutes in the 120 degree heat, even if it meant 3 more months in the boot. It was a once-in-a-lifetime opportunity. Really!!
The dirt at the side of the road was very soft, but not too soft, a nice benefit for someone taking their first run after a stress fracture. I was supposed to walk, but I couldn't JUST walk given the spirit of the occasion. I wasn't breaking any speed records, and I admit, I walked a few minutes out of the 20. Having not run since April, and very little from Feb 3 to April, even at sea level, 9000 feet below normal for me, it was dang hard to keep moving for 20 minutes.
I have been training a little since then. A few short runs and bike rides. My foot is …. well, weird. No significant pain in the location of the stress fracture, but at times it has hurt nearly every place else.
I had an appointment today with Russ Bollig in Broomfield, Colorado, whom I have designated "The Orthotics Wizard". I am lucky his office is less than a five hour drive from my house and he charges regular rates for his work. He has made orthotics for many professional and world-class athletes. He is also a super nice guy. I have my first fitting a week from Friday, and I'm hopeful that I'll soon be able to cycle as hard as I want without pain.
For the Spring of 2008, I have signed up for something totally insane. I am a little worried to blog about it since I have withdrawn from or DNF'd every event I have posted about. I am getting insurance. ; )
The photo is in Arizona on the way to Badwater, cuz there can never be enough photos of my pups on my blog and all the photos I shot of the "Sooo Not Normal" relay, and MANY more, are online here.