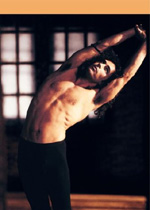 Bryan Kest Power Yoga 1 – Energize : : 45-50 min
The first time I tried this video, in 1998, I turned it off after 22 min and said, "I'll never be able to do this." I know it's more popular to be The Little Engine That Could, but, "I can't!" seems to be a more powerful tool for me. Somehow giving up all expectations is the best way for me to make progress.
Coming back to this video I am always impressed by the perfect pacing. This is a great stretch and strengthening routine. You can put on your yoga clothes and be finished with your mat put away inside an hour and feel like you've really accomplished something. Following along 3-4 times a week will quickly build upper body strength if you're lacking it.
I have bought many copies of this video over the years to give to friends. Beginners with some flexibility and unbalanced strength seem to have an easier time sticking with this than the reverse. The stretching can be too uncomfortable for very tight people to start with. You can pick up a DVD with Kest's Power Yoga 1/2/3 Series for under $20 with shipping on his website. That's almost too good to pass up!!