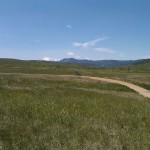 My biggest challenge this year has been the 24 Hours of ERock followed by the Elephant Rock 100 on tandem. JB and I had planned to ride Little Red Riding Hood on June 6, but by the time we got around to registering it was full. I was looking for another century for us that weekend and saw there was a century and 24 hour mountain bike race at Elephant Rock. Sounded like a good challenge so I signed up to ride ERock, 6pm-6pm, June 5-6, and 100 miles on the tandem on June 7.

Although I've been training a lot this year, by the time June 4 rolled around I was really questioning whether or not I could do both these rides. I felt it would be selfish and unfair to my tandem partner if I couldn't finish 100 miles on Sunday, but at that point all I could do is go for it.
My two previous 24 hour races have been completed at a very leisurely effort. Not to say it's ever easy to ride 23-24 hours, but I started 24 Hours of ERock at a much harder, albeit still moderate, effort. Again, I was wondering if I shouldn't back off to save my legs for Sunday's tandem ride. I kept up my pace knowing that I'd ridden about half of the 300k two weeks earlier at a moderate pace and hadn't felt too bad the next day.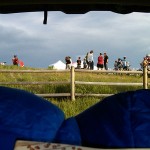 I had in the back of my mind that I'd like to get in 200 miles, because a 300 mile weekend would be a nice, round number. My past 24-hour MTB experience made me think that getting in 25 laps would be impossible….I was hoping for 24, but before I'd been out 12 hours, I knew 25 laps would be possible.

The wind was ferocious on Saturday, but really only affected riders for the first 3 (due west) miles of each lap. The problem I was having by noon on Saturday was lack of sleep. In fact I think the biggest disadvantage older riders have in ultras is their decreased tolerance for sleep deprivation. Sleepiness was making me think about stopping early…22 or 23 laps would still be a good race, and it seemed that the 2nd place woman had already stopped with 11.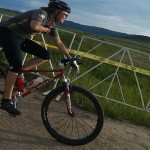 During my 22nd lap I calculated that I could stop for a 45 min nap and still have 3 hours to finish my last three laps. I decided to take a nap break for two reasons, 1) I was feeling a little dangerous on the downhill part of the course, 2) I need practice incorporating sleep breaks if I'm going to do longer rides. My nap during the 24 Hours of Targhee in 2008 seemed to affect me negatively so I'd been worried about stopping. In retrospect, I think the main problem at Targhee was lack of training, and sleeping a little too early … before I got to the point that I could barely keep my eyes open, and could sleep through anything.

The nap worked well, and I felt much better on my last three laps. I stopped at 23:02:27 with 25 laps, 206 miles.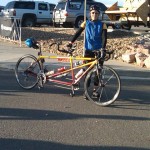 Great! Yay! …except I had to start another 100miles in about 12 hours. It seemed to take forever for the post-race ceremonies to get going, and I felt rude for leaving early, but sleep time was rapidly disappearing. We drove to the hotel, checked-in, hauled our gear inside, set up the tandem and showered. It was after 10pm before lights were out and I negotiated for an extra hour of sleep. I thought chances were 50/50 that I'd be able to ride the next day, but I was too tired to lie awake worrying about it.

5:30am Sunday – Hmmm. I don't feel to bad. What's it going to be like to walk? Not sore really. Hope the bike saddle is not too painful.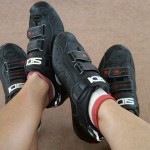 The bike saddle was not painful, even though I find the stoker compartment to be one of the most uncomfortable in cycling. The good thing is that riding in the back is a mental break, all I had to do was pedal. JB took the brunt of the another day of howling wind and all the tiring decision-making that goes along with captaining a tandem.

When we passed the turn-off where the 60-mile and 100-mile routes diverged with no conversation I had a little private celebration, knowing we'd finish the 100. Most of the ride around Black Forest was great. We got a lot of practice standing on climbs on the many rolling hills, and enjoyed tandem aerodynamic benefits on the descents.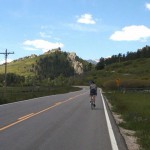 The 300k I'd done two weeks early had followed a similar route. Having stopped at the Black Forest General Store at Burgess and Black Forest Road during that ride I knew that it was worth a couple 100 yards of extra pedaling. We enjoyed their clean bathrooms and Vegan cookies and got to skip a couple Port-o-let stops.

Once we got to the end of Roller Coaster Road and headed west we hit the wind. It was a little scary for me, but the stoker's challenge is to just relax and be confident in your captain's skills. We had a regrouping/rest stop about 30 miles from the finish. Then, in spite of the wind, had a pretty easy ride back to Castle Rock … at least from the stoker's view.