Tejas 500 Report (Part 1)
The Tejas 500 at the Texas Time Trials was a good end to my season. It was my third ultra cycling race in four weeks. I'd hoped that riding 24 Hours of Grand Targhee, followed two weeks later by the Ring of Fire 24 Hour Time Trial, and finishing up with the Tejas 500 would be a good challenge and good peaking; each event building on the last. After ROF, I questioned even trying the Tejas 500 this year. I didn't feel like I'd had another 200 miles in me. I e-mailed the Texas Time Trials race director, Dan Driscoll, with questions about late entry and before I knew it my application was in the mail. I'm glad I did it. It didn't seem much harder to ride 500 than 300, but I am ready for a break now, with maybe with a couple of New Mexico brevets before the end of the year.
I completed several of my goals for the year. Two big ones were 1) riding 300 or more miles in 24 hours, I did 318 in 23:24 with a 45 min nap; and 2) completing 400+ mile road ride. There were three women in the 500. I was second at 43:31. First place was Lynn Lashley, 42:07; Third Heidi von Teitenberg, 47:05.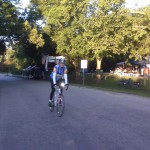 My mom crewed for me and she was great! It was her first time to crew a bike event (though she had crewed me during a point-to-point training ride in June). It was my first 48 hour ride. I think it is very hard to crew a 48 hour event and when I've done it I've not been the only crew person so I was very worried about my mom trying to crew for 48 hours by herself. I kept asking her to go back to the hotel and get some real sleep, but she refused and was there for every lap, making sure my batteries were charged at night, and packing my bottles full of ice during the day, and reminding me to take Endurolytes, and apply sunscreen and Chamois Butt'r. One thing's for sure, moms make the best peanut butter and jelly sandwiches!

Race report to be continued…