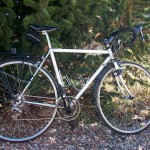 I think this is what I've always wanted; a road bike I could ride anywhere.

[If you are a lover of old Vitus frames stop reading now! ]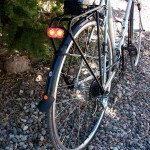 My primary intention for installing rack, fenders and wider tires on my old road bike was to set it up for winter; something I could ride in a little mud, a little snow, and on wet roads … and so I wouldn't be prevented from doing town errands by bike because of lack of carrying capacity. In the meantime, even though the weather is fabulous, I've been riding it on the dirt roads near my house. A nice change and very fun! The tubeless 700×25 tires give a pretty smooth ride and the fenders help with dust on my bike and water bottle.