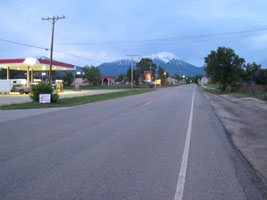 Rider's view 5:30AM Thursday.
About 10 minutes ago a skunk walked from behind the tent and across the highway. Uneventful. The skunk was minding its own business. Probably just making its regular morning rounds.
The most recent rider arrivals were Attila Kaldy, Jeff Oatley and Peter Oyler who all came in between 11-11:30 PM local Wednesday night. The last of those riders left the TS a few minutes ago after some rest at the campground behind the TS. All the crews and riders were friendly and seem in good spirits.
The sky is brightening. After more rain yesterday afternoon the day ended with a beautiful, sun-warmed evening. It's been a crisp and cool night, about 40 F. Probably pefect for riders headed up Cuchara Pass.
Predicted arrivals for TS #19 have been many hours off. The next riders should be here at any time and we expect to see the lead women and the first of the teams sometime after noon.