For the last day of Vegan Month of Food: Pizza! Pizza is one of my favorite foods. Probably because when I was a kid, my family nearly always celebrated with pizza. In spite of my love of bread, I like thin crust pizza best. This recipe will make a crust as thin as you can roll it. The problem is getting it to stay rolled out. I usually roll it on parchment paper, which the dough sticks to a bit. Then move the parchment paper with pizza atop directly to the pizza stone.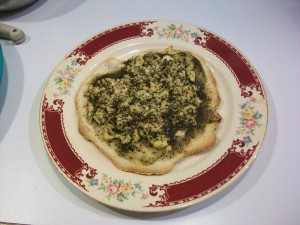 I use a crust recipe similar to these two from pizzamaking.com: Pizza Inn Style "Original Thin" and Thin Cracker-Crust. Those pizza makers are much more exacting than I, so you may want to refer to their instructions. I'm just happy to have a crispy, non-sagging, thin crust.
Yield: 8-9 servings
1-1/2 tsp. yeast
3/4 c. + 1 tbsp. warm water
1-2 tsp. sugar
3-1/2 c. high gluten flour
1-2 tsp. olive oil
1 tsp. salt
First put the yeast, warm water and sugar into the mixer. Stir briefly. Then let it sit for a 5 minutes to proof your yeast. As soon as you start to see tiny bubbles, or foam, you'll know the yeast is good. I am often tempted to skip this step, and I was glad I didn't this time because the first yeast I tried was dead.
Add olive oil and mix. Then add flour and knead with mixer for 10 minutes or so. You might have to knead longer if you're doing it by hand. Last add the salt and knead for another minute or two to get it mixed well. Transfer dough to a covered container. Let rise on the counter 1-4 hours. Then move to the refrigerator overnight. I've kept it in the refrigerator for up to 48 hours before using.
When you're ready to make pizza, place pizza stone on a middle shelf in your oven and preheat to 425°F. Place a piece parchment paper on the counter. Pinch off dough the size of a small fist for each serving. (Note: 3-4 small fists worth is probably max for most pizza stones.) Form a ball with the dough and place in the middle of the parchment paper. Unless, you're an expert pizza dough thrower, use a rolling pin to roll out the dough. I try to get it 1/8″ (3mm) or less. Add toppings. Bake for 10-12 minutes.
If I'm not planning to eat pizza again within a day or two, I separate the extra dough into serving size balls and freeze. Take as many as you need out of the freezer the day before you need them, and let them thaw in the refrigerator.