This is a biking weekend so there won't be much cooking. This morning I drove to Frisco for Frisco Cross. It's a two day event, but I have a 200k with RMCC tomorrow so no CX for me on Sunday. This was my third CX race, but the first Colorado Cup race of the year so there were more riders than when I raced a few weeks ago. I signed up for two races, Women's 35+ and Women's Cat 4. I realize that the age requirement for the "old" women's race is not very old, but it still shocks me how young most of the 35-40ish women look. I could swear some of them must be first year college students. : )
I finished 9 out of 16 in the Women's 35+. I had a horrible start. I missed my pedal and almost fell, and then "sprinted," as much as I can sprint, to catch the back of the group as they turned off the pavement. The first lap I was hanging back a bit to check out the course, since I didn't take any practice laps.
I don't even know how I finished 9th of 29 in the Women's 4. I thought since it was only 40 min we'd only have time for 4 laps. As I passed the start/finish at the end of the third lap I saw "2" to go. Ugh! I was pretty wasted by that point, I think I might have passed one or two on lap 4, but on lap 5, even though I had a couple riders close in front, I just didn't have any bursts left to get around. I spent a lot of time in the dirt too. I never fell while riding, but three times, while getting on or off or just running along I fell. It's funny. During the race I didn't notice if I was hurt or not. I was just pissed at myself for dumping my bike.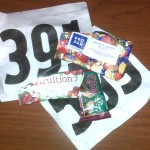 I have some photos and video of the new Frisco Bike Park. Unfortunately I got out of the house without the cable for my camera. Here's a photo of a few things I ate. The ProBar Whole Berry Blast and Q-bel Double Dark (my favorite vegan candy bar) were after the race. I ate the Fruition about 20 min before the start of the second race when I realized I was low on calories and didn't have any more gels. I love the Fruition Cherry! It seems like every time they come out with a new flavor it becomes my new favorite.
I also got some yummy pumpernickel bread from my friends' bakery yesterday and had a PB and rice syrup sandwich for breakfast and ate one of the Eggless Salad sandwiches I made for tomorrow's brevet when I realized I hadn't brought anything for my 3-hours-before-the-race food.
This is roughly how I make Eggless Salad.
1 pkg extra firm tofu crumbled
1 tbsp mustard
dash of tumeric
dash celery salt
several dashes of black pepper
1-2 tbsp sweet pickle relish
3-4 tbsp Nayonaisse
1 tbsp chopped onions (optional)
Mix well in a container you can store it in. Why clean an extra dish?!