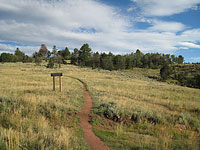 I have spent the last couple of weeks in Idaho. I am on Lisa Smith-Batchen's 508 crew and I have been doing some training with her and helping with the Grand Teton Races that Jay, Lisa and Zach put on at Grand Targhee over Labor Day weekend.
The races were great. One of the highlights was getting to meet Olga. She wasn't able to run this year and many of the competitors can be thankful for that. She was out the entire 36 hours of the race giving runners great assistance at the main aid station. She was filling water bottles, helping with drop bags, taping feet, giving massages, encouragement, ultra-wisdom and smiles. I don't know how many shoes and socks I saw her change. Her energy was amazing. She never seemed to tire.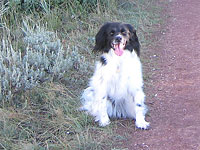 On the drive from Colorado to Idaho Bonnie and I stopped and for an early morning trail run near the "Lincoln Monument" east of Laramie. There are some beautiful single track trails in the area. From I-80 West I took a right from the Happy Jack exit and another right past the Lincoln Monument and about 1/2 mile on a dirt road to a trail head. I started on the "National Headquarters" trail and looped around on a couple others for about a half hour. Bonnie loved it and helped me find the way back to the car. I had just picked up my orthotics the afternoon before. They felt great.